Policy Matters
Ohio Celebrates "In-Demand Jobs Week" in Ohio, LeadingAge Ohio Holds Workforce Panel in Fostoria
May 7, 2019
FOSTORIA - LeadingAge Ohio today hosted a panel discussion at Good Shepherd Home in Fostoria titled "The Power of Partnerships: Mobilizing the Next Generation for a Strong Workforce", where public officials, educators and aging services providers discussed how partnerships between aging services providers and schools are mobilizing our local communities to foster an interest in "Careers That Love You Back" - a name given to an array of careers within the aging field. The event was timed to coincide with Ohio's In-Demand Jobs week (May 6-10).

In-Demand Jobs Week is a statewide celebration of jobs, industries and skills that are "in-demand" in Ohio. Community leaders statewide were encouraged to partner together to plan engaging events and activities to inspire excitement and awareness among students and job seekers.
Joining the panel was Ohio Department of Aging Director Ursel McElroy, State Representatives Bill Reineke and Steve Arndt, Ohio Department of Education Program Coordinator Cassandra Palsgrove, Vanguard-Sentinel Superintendent Greg Edinger, Tiffin City Schools Director of Academic Affairs Amy Wood and Good Shepherd Home Executive Director Chris Widman.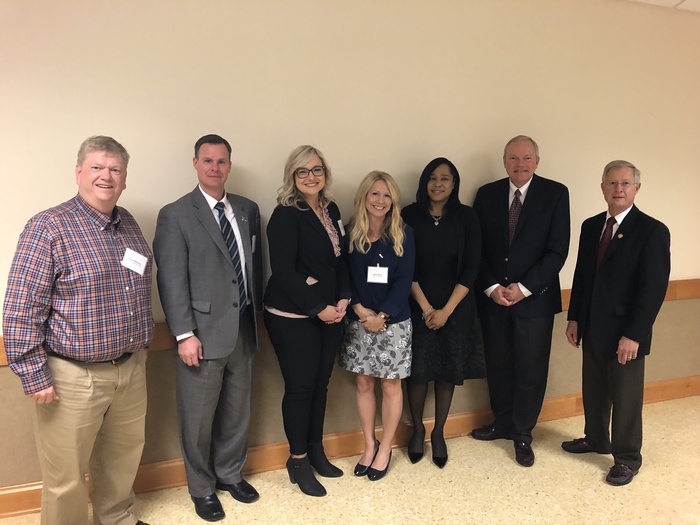 LeadingAge Ohio, in partnership with Good Shepherd Home, Tiffin City Schools and Vanguard-Sentinel Career & Technology Center, has recently begun several exciting new partnerships in Northwest Ohio to familiarize and encourage even the youngest students to consider careers in aging and promote workforce improvements in the years to come.
Tiffin City Schools is taking strides to educate elementary students about careers in aging services with the "Careers That Love You Back" initiative, and Vanguard-Sentinel Career and Technology Center, in conjunction with Good Shepherd Home, is operating a new elder certification program and dementia certification as an option for all students.
Over 40 LeadingAge Ohio members attended the panel discussion, as well as local press.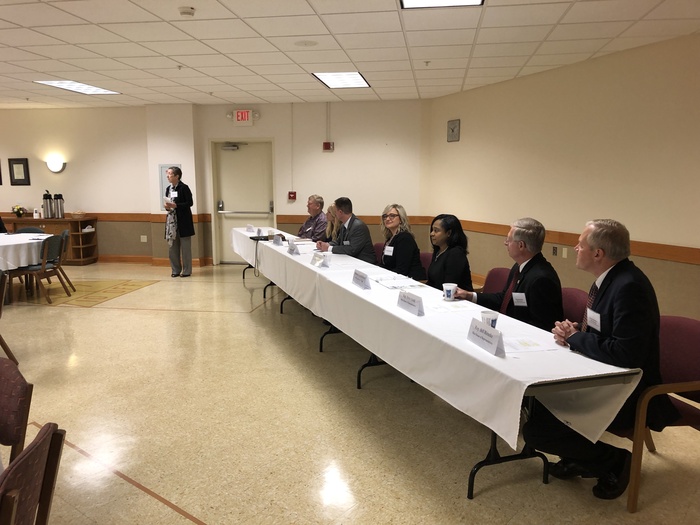 LeadingAge Ohio Supports Quality Measures for Nursing Homes, Increases in Assisted Living Waiver and PASSPORT Rates in House Budget
May 2, 2019
COLUMBUS - LeadingAge Ohio came out in support of decisions made by the Ohio House of Representatives in the House budget, state operating budget sub HB 166, which will provide additional quality measures for nursing homes to increase funding, and a modest increase in the Assisted Living Waiver and PASSPORT rates. LeadingAge Ohio has been at the forefront of advocacy efforts to push for critical increases in these reimbursements on behalf of the aging Ohioans we serve daily.
LeadingAge Ohio has worked aggressively to Increase the quality of care provided by nursing homes statewide amid a workforce crisis in aging services.
"In recent years, Medicaid funding for nursing facilities has been essentially stagnant," said Kathryn Brod, President/CEO of LeadingAge Ohio. "In spite of this, our members have continued to increase quality. We support payment reforms that recognize improved outcomes."
In recent months, LeadingAge Ohio members have spent time speaking with members of the Ohio House of Representatives to advocate for a strengthening of the Ohio Assisted Living Waiver, which hasn't seen an increase in over a decade, and an increase in funding for Personal Care Services and Enhanced Community Living under Passport, which are badly needed to address the workforce crisis in long-term care.
"Ohio's PASSPORT and assisted living waivers are the best tools we have to rebalance Ohio's long term care system," said Brod. "Every individual served in home-and community-based services is one fewer in a higher-cost care setting, and we are pleased the House recognized the importance of trying to move reimbursement to help address the workforce crisis. We look forward to further discussing these issues with our partners in the Ohio Senate."
Kathryn Brod Testifies in House Finance Subcommittee on Health and Human Services
April 8, 2019
COLUMBUS - Today LeadingAge Ohio President/CEO Kathryn Brod testified in the Ohio House Finance Subcommittee on Health and Human Services, discussing the amazing work our members do every day, outlining our challenges in the aging industry and advocating for our Ohio state operating budget priorities. Brod was one of several interested parties testifying from the aging community in preparation for state operating budget deliberations in the Ohio House.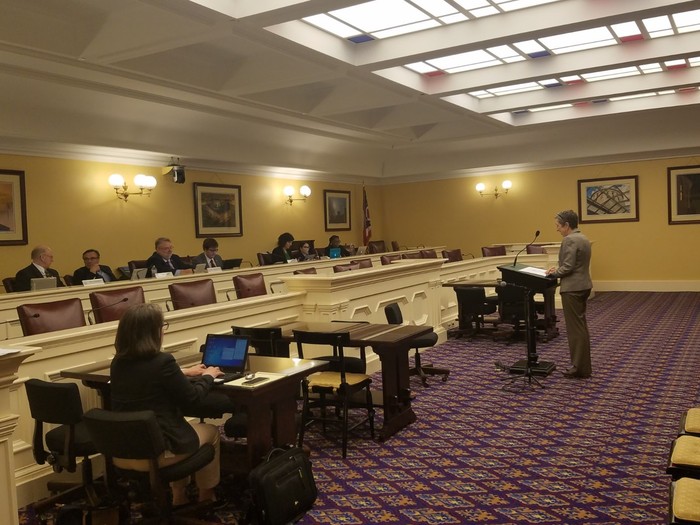 LeadingAge Ohio's Kathryn Brod giving testimony on the state operating budget
Brod discussed our plan to strengthen and redesign the Assisted Living Waiver program, a plan that was also backed and discussed by the Ohio Health Care Association at the hearing. She also discussed how the state can help facilitate workforce improvements in long-term care through preserving the nursing facility market basket increases and through increased funding to PASSPORT. Finally, Brod outlined the challenges our members and older adults around Ohio face when dealing with Medicaid eligibility.
LeadingAge Ohio had previously met with members of the committee, and we hope with this testimony and our continued efforts, we can see these amendment proposals included in the final version of the bill submitted to the Ohio House for a vote the the coming weeks.
Catch up on Kathryn Brod's testimony here if you missed it!
(Beginning at 4:58:25) HHS Subcommittee 4/8/19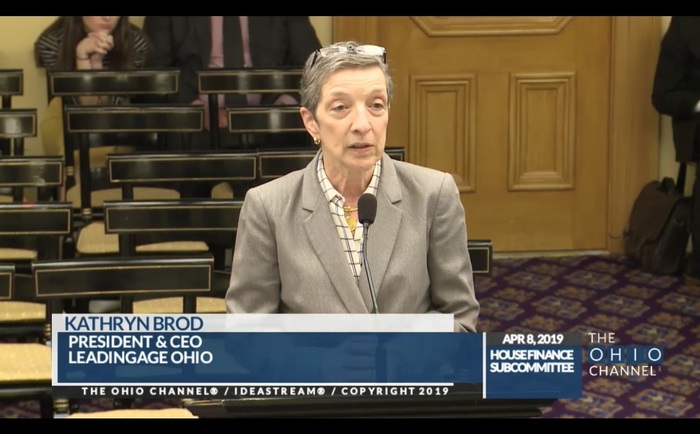 LeadingAge Ohio Wraps Up Week Full of Legislative Visits in Anticipation of House Budget Bill
April 5, 2019
COLUMBUS - LeadingAge Ohio and the LeadingAge Ohio Advocacy Committee today wrapped up a week full of legislative visits, both in our member communities and at the Ohio Statehouse, where we met with members of the Ohio General Assembly and their staff to discuss our state budget priorities. These visits are in anticipation of House Bill 166, the Ohio state operating budget bill which is currently in it's final stages in the Ohio House Finance Committee, being amended and offered up for a vote.
Budget priorities discussed with members at the LeadingAge Ohio Advocacy Committee meeting and with state representatives and senators of the Ohio General Assembly included:
Redesigning and strengthening Ohio's Assisted Living Waiver
Preserving the nursing facility market basket increases removed in the Executive Budget proposal
Increasing funding for Personal Care Services and Enhanced Community Living under PASSPORT
Streamlining Medicaid eligibility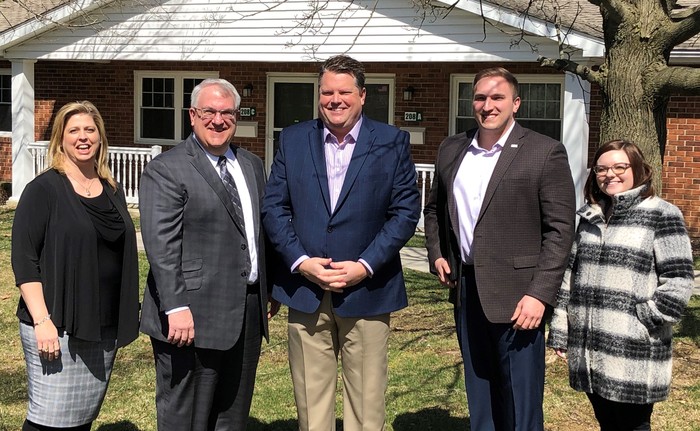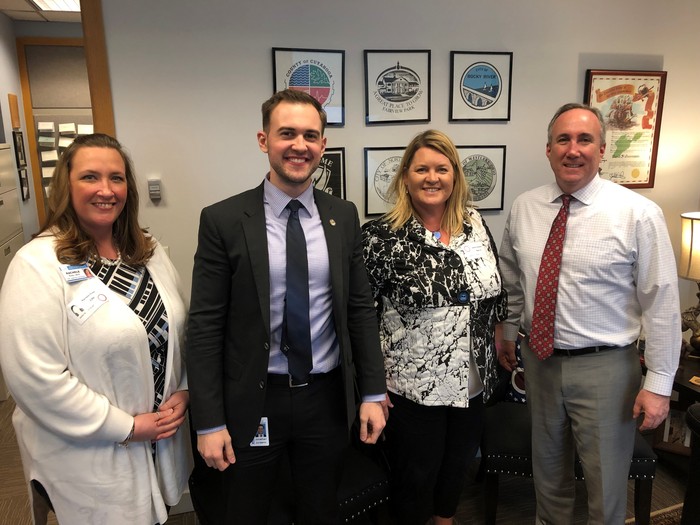 Green Hills Community Staff & Rep. Cross Jennings Staff & Rep. Greenspan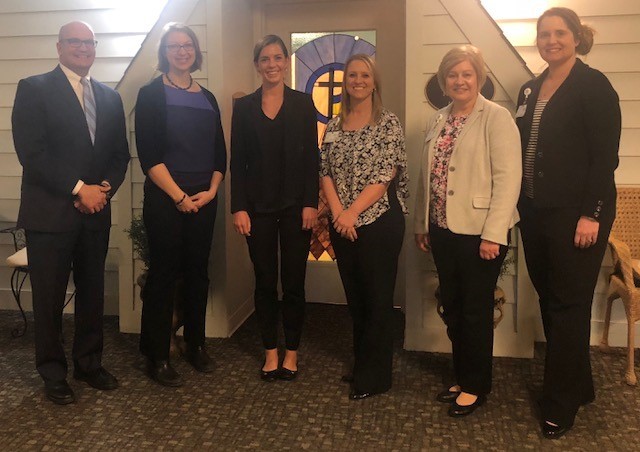 Brethen Retirement Community Staff & Rep. Powell
A variety of meetings took place around the state, including:
Rep. Jon Cross (R-Kenton) visiting Green Hills Community in West Liberty
Rep. Brigid Kelly (D-Cincinnati) meeting at the Statehouse
Rep. Steve Arndt (R-Port Clinton) meeting at the Statehouse
Rep. Dave Greenspan (R-Westlake) meeting at the Statehouse
Rep. Allison Russo (D-Upper Arlington) meeting at the Statehouse
Office of Sen. Rob McColley (D-Napoleon) meeting at the Statehouse
Office of Sen. Matt Huffman (R-Lima) meeting at the Statehouse
Rep. Bill Roemer (R-Richfield) meeting at the Statehouse
Rep. Jena Powell (R-Arcanum) visiting Brethen Retirement Community
As we move forward in the budget process, we will continue to stay vigilant in working with our elected officials to enact positive changes for our members and for older Ohioans.
State Senators Steve Wilson and Kenny Yuko Introduce Bill to Establish an Alzheimer's Disease and Related Dementias Task Force
March 28, 2019
COLUMBUS - State Senator Steve Wilson (R-and State Senator Kenny Yuko (D-recently introduced bipartisan legislation to establish an Alzheimer's diseases and related dementias task force. Senate Bill 24 is currently pending in the Ohio Senate, but LeadingAge Ohio hopes to see quick passage of this critical bill.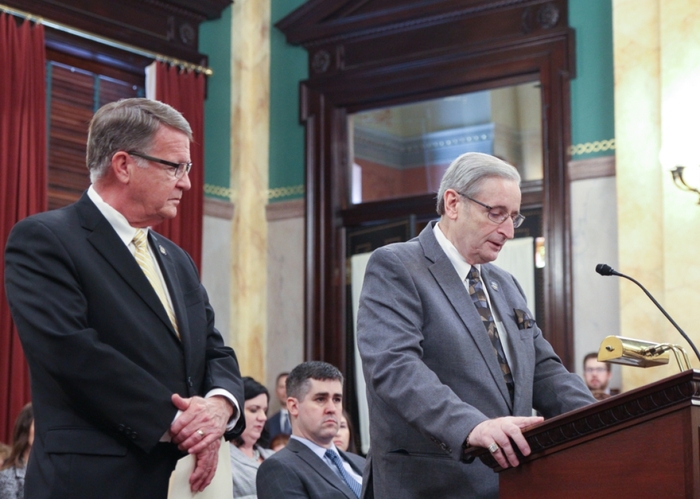 Senator Wilson & Senator Yuko giving testimony on the bill
The two senators held a press conference on February 13th and testified in the Senate Health, Human Services and Medicaid Committee on March 20th in an effort to move the bill.
"Ohio's population is getting older and we are not ready to support the growing number of people with Alzheimer's, their caregivers and their families," said Senator Yuko. "We have to act now to develop a plan of action for our communities and public support systems."
"Remarkably, Ohio is the only state in the nation that has not established a process for creating an official comprehensive plan to confront this growing public health crisis," said Senator Wilson. "I find that embarrassing and unacceptable."
With over 5 million Americans living with Alzheimers and an estimated cost of care of $277 billion in 2018, and as many as 16 million expected to suffer from the disease by 2050, the time is now to establish a plan (alz.org).
Good Shepherd Home Spearheading New Dementia Certification Program
March 27, 2019
FOSTORIA - LeadingAge Ohio today visited Good Shepherd Home in Fostoria to observe their Elder Certification Program, which is offered in conjunction with Vanguard-Sentinel Career and Technology Center. This program is offered to all students at Vanguard-Sentinel.
Good Shepherd Home is currently hosting seven students from various Northwest Ohio high schools who spend part of each school day at Vanguard-Sentinel in their Health Career Academy. While at Good Shepherd Home, the students receive instruction from Registered Nurses and other staff with hands-on exercises, classroom work and by spending time with the residents. All of the current students in the program are State-Tested Nurse's Aides.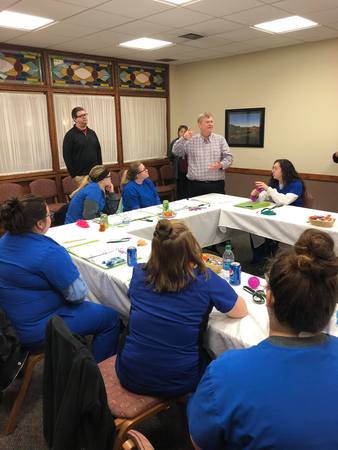 Good Shepherd Home's Chris Widman speaking to students in the program
The program consists of two weeks of sessions at Good Shepherd Home, after which they leave with a certificate that can help them when they go seeking employment or further education after graduation. The program is mutually beneficial, giving the students' resumes a boost when pursuing careers in healthcare and helping to train the next generation of long-term care staff for nursing facilities.
LeadingAge Ohio is planning to publicize this program and others to representatives from the state legislature, schools in Northwest Ohio and the media at our May 7th panel in Fostoria at Good Shepherd Home titled "The Power of Partnerships: Mobilizing the Next Generation for a Strong Workforce". To RSVP, please contact Patrick Schwartz at PSchwartz@leadingageohio.org.
LeadingAge Ohio Advocates on Capitol Hill for Workforce and Housing Improvements
March 20, 2019
WASHINGTON, D.C - Today, LeadingAge Ohio members, staff and student volunteers met with the Ohio Congressional Delegation on Capitol Hill to discuss legislative priorities critical to our membership. This was the culmination of the LeadingAge Leadership Summit held in Washington, D.C. from March 17-20.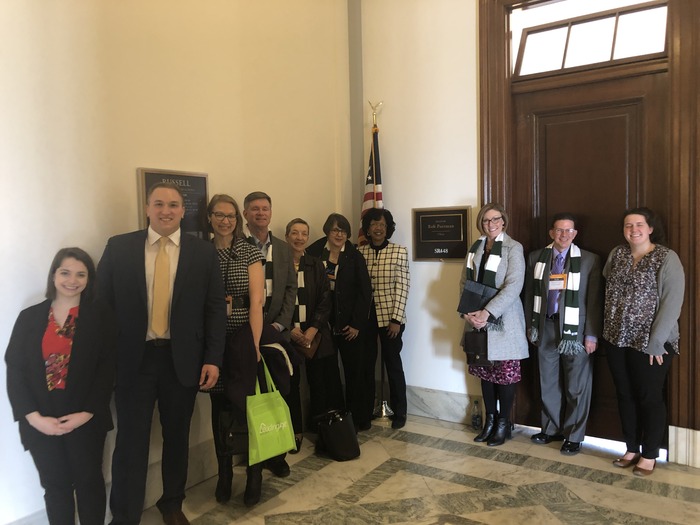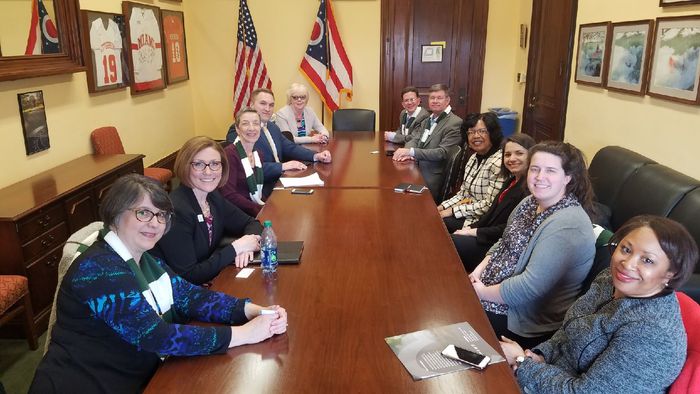 Legislative priorities discussed with legislators and staff included:
Boosting affordable housing options for older adults
Supporting the Geriatrics Workforce Improvement Act (S.299)
Consponsoring and supporting the Nursing Home Workforce Quality Act (H.R. 1265)
Meeting workforce demands by establishing a Temporary Foreign Worker Program
LeadingAge Ohio paired up with leaders from our member communities and social work interns from Age Friendly Ohio to relate personal experiences related to the workforce and housing crisis currently affecting older adults and providers here in Ohio.
Legislator offices that we met with included:
Congressman Warren Davidson (R-Troy)
Congressman Anthony Gonzalez (R-Rocky River)
Congresswoman Marcy Kaptur (D-Toledo)
Congressman Jim Jordan (R-Lima)
Congressman Steve Stivers (R-Columbus)
Congresswoman Joyce Beatty (D-Columbus)
Senator Rob Portman
Senator Sherrod Brown
Our goal is to have these legislative priorities supported by our elected officials and to put words into action to make improvements for older Ohioans.
Directors Sears, Laubert, Governor's Office Take "Technology Tour" of Maple Knoll Communities
On Friday, June 22, Maple Knoll Village hosted staff of the Ohio Department of Aging, the Ohio Department of Medicaid and the Governor's office on a tour of its campus highlighting its culture of innovation as well as its partnership with the University of Cincinnati. In attendance were Beverly Laubert, Director of the Ohio Department of Aging, Barbara Sears, Director of the Ohio Department of Medicaid, and Kelly Reidenbach, Assistant Policy Director for the Governor's office, as well as other leadership from the Administration, LeadingAge Ohio and Maple Knoll Communities. Highlights of the tour included:
Learning about Maple Knoll's award-winning Structured Interdisciplinary Bedside Rounds (SIBR) program, which has dramatically decreased hospitalizations, with zero turnover in rounding positions;
A tour of its prototype "smart house" in which Directors Sears and Laubert had the opportunity to meet with the UC College of Nursing's researchers, as well as UC engineering students and even operate a care robot;
Plans for a new "Servus Hub," a partnership between Maple Knoll Communities and RoundTower, which will be a testing ground for Maple Knoll residents to shape new products and innovations being brought to market.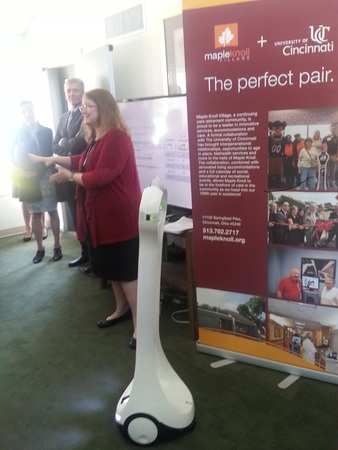 "We are grateful to have had the opportunity to host a visit for those agencies that can have a direct impact on the way we care for seniors in the state of Ohio," said Tim McGowan, Executive Vice President of Operations at Maple Knoll Communities. "I am hopeful that Friday's visit will open the doors necessary for some collaborations with the Department of Medicaid, the Ohio Department of Aging, the Governor's office, and the UC Colleges of Nursing and Engineering. Working together, I am confident that we can conduct research that will advance the quality of life for seniors in all settings!"
LeadingAge Ohio delights in opportunities to showcase our members' leadership within their communities and contributions to the field of aging services. If you have an innovative practice, approach or model that warrants sharing, contact Susan Wallace at swallace@leadingageohio.org.
Advocacy
Political Action Committee
Pathways - #plan2ageohio
Need Help?
Director of Government Relations and Public Affairs
614-545-9024
Primary contact for policy priority development, advocacy and legislative affairs
Liaison to Advocacy Committee, Home Health, Hospice & HCBS Subcommittee
Responsible for newsletter content generation and compilation